Virginity Checks Protest in Georgia
Feminists have staged protests outside a clinic in the Georgian capital Tbilisi, which reportedly performs examinations in order to issue "virginity certificates" for brides-to-be.
According to
local channel Imedi TV
, the service is offered for 175 lari (£69) or twice as much for a faster result.
It adds the majority of women are brought to the National Forensic Bureau clinic in the former Soviet state by relatives – most commonly their future mother-in-laws.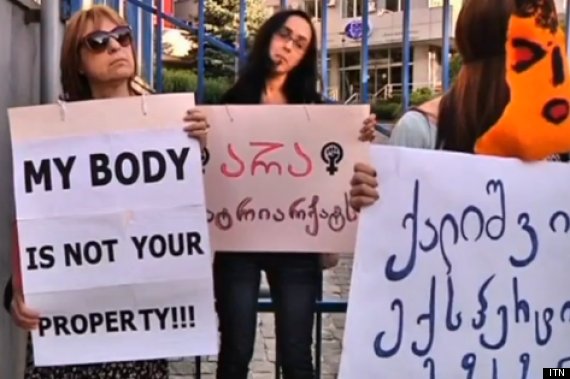 Feminists protest at the National Forensic Bureau in Tbilisi, Georgia
The clinic is rumoured to perform up to 200 virginity checks each year.
According to IBI Times
, the inspections also look for signs of cancer and other ailments related to the female reproductive system.
"In many cases, they leave very happy when they find out the truth, that is, if the truth is acceptable to them," Imedi TV quoted the bureau's medical expert Eka Chavieslshvill as saying.
Although the clinic's own staff were quoted in the report, the independent practice has denied it issues such certificates, and insists it only carries out examinations under court orders, for example to establish whether rape or sexual violence has taken place,
Euro News reports.
But protester Etuna Nogaidely told ITN: "Although the staff insisted that they do not issue such documents, using my own logic, I can say that if they work with individual clients, logically they can issue some kind of document after such a test."
The rally was organised by the Independent Georgian Feminists group, which accuses the clinic of encouraging the "harmful tradition" of considering an intact hymen as "an indicator of a woman's chastity,"
Ria Novosti writes.
The preservation of virginity before marriage for women is deeply entrenched in the Orthodox Christian eastern European country.
But the same cannot be said for men.
"We have two morals in this country: one for men and another for women," Tbilisi State University Gender Studies Professor Nino Javakhishvili
told EurasiaNet.
Of the taboo commonly referred to by Georgians as "the virginity institute", he added: "Premarital sex is not only tolerated, but even encouraged for men, while it is frowned upon for women."
++++++++++++++++++++++++++++++
NOW You will pleased to know that you will not have to remove your underwear to even prove you are female to be able to buy one of my funny vampire books for girls
We will just check your teeth!
I do not know why but no one has noticed in my books vampires are Asian Vampires ...
))))))))))))))))))))))))))))))))))))))))(((((((((((((((((((((((((((((((((((((((
A self help guide by Amy Mah (Vampire) for teenage vampire girls, the guide is fully illustrated by manga Artist Heby and is written in an easy to follow A - Z format explaining everything a teenage vampire girl would need to know about living life as a modern Vampire. What is fashionable to wear when eating out? Fang maintenance & how to keep your claws sharp. Should you let a boy bite you on the first date? Easy to understand clear advice is given to every day problems Example: When you get an urge to bite: We all get those normal urges to bite things, and I must point out it is very normal, Claws are all well and good in a fight but a bite gives the extra advantage of getting a refreshing drink at the same time. Lots of girls worry about showing their Fangs in public believing that to show your fangs is rude, but don't be shy they can be a girls greatest asset (ok second greatest asset) if a boy is being rude to you, don't just snarl at him, just bite him! You are a vampire why do you think you have sharp teeth if not for sinking them into a boy that is being rude to you.
Today's world is difficult for everyone, especially teenagers. They face the stresses of school, deciding whom to date, and the biggie of sex, just to name a few. Imagine all of those things ten times worse, and you might get an idea of what it's like being a living, breathing teenage vampire. At last, the world can read about the life of a girl with good teeth, her problems with strong sunlight that gave her spots, and the sunblock that made her hair go yucky and produced more spots. Yes, sunlight was dangerous, as she could be the first teenager in history to die from terminal acne! In her everyday life, older vampires expected her to walk about at night in the traditional female uniform, a see-through, 18th-century nightdress, without undies! Well, this female vampire knew why the cold winds blowing along the corridors were called, "male winds," so she wore her see-through nightdress over jeans and a very thick jumper. To be sure that people would still know she was a vampire, the jumper had a very large, pink bat on it. And as to guys, well, it was normal for a girl to dream about guys; she just wished the dreams could have involved chocolates and holding hands, not leaping out at someone, ripping off his shirt, and demanding to know what blood type he was (at least not on the first date).