Its ok to kill black people but not Lions

Er ...why the complaints if its a legal cull it is better than poison or trapping, personally I would not kill such a lovely creature but then nor would I kill bears and deer in the american national parks which is not talked about.

I also see no one complains about selling guns to African countries which use them to kill people, so perhaps it is ok to shoot black people but not legally cull an animal?
Humans are so odd, lets go bomb a country and kill lots of women and children .
What about the Lions in the zoos of the countries we bomb ?
Anger at TV presenter who posed with lion she hunted in South Africa
An American TV presenter has sparked outrage after she shared a photo of herself with a
lion
that she apparently shot dead on a hunting trip to
South Africa
.
Melissa Bachman posted the picture on her Facebook page and has received over 1,440 'Likes' for the 'trophy' snap.
According to
The Guardian
, she took part in a legal hunt at the Maroi conservancy in the northern Limpopo province.
The presenter's Twitter account, where she also posted the image, later appeared to have been removed but not before comedian Ricky Gervais responded to her tweet.
He tweeted: "'@melissabachman: incredible day in South Africa! Stalked this male lion...what a hunt! http://t.co/Gerc9AfmGo' spot the typo"
On her
Facebook page
, Melissa posted other disturbing photos of animals she had hunted during her trip.
An
online petition
calling for Bachman to be banned from returning to South Africa has received 8,000 signatures.
Her personal website says her job involves "filming, editing and hunting for a living".
ITV News
reports that she grew up hunting with her family in Minnesota before launching a career with North American Hunter Television.
US hunter criticised over picture with dead lion in South Africa
Petition calls for TV presenter Melissa Bachman to be barred from returning to South Africa after participating in legal hunt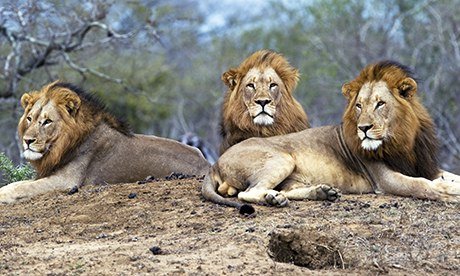 Her lion tweet has provoked another angry backlash. One Twitter user, Gaye Davis, asked: "If it was beautiful why kill it?" Tim Flack, a South African, commented: "People like @MelissaBachman hunting lion in SA is everything that's wrong with our hunting industry."
Supporters of hunting in South Africa argue that it raises funds from wealthy tourists which are then ploughed back into conservation efforts.
Lourens Mostert, game farm manager at the Maroi conservancy, confirmed that a lion was killed and said the hunt was legal. "If it isn't right to hunt these lions, why does out government legally give us permission?" he told the Times newspaper. "This is not the only lion that has been hunted in South Africa this year."
The barrage of criticism prompted Bachman to make her Twitter account private. Her personal bio reads: "I've been an avid hunter my entire life & now I've turned my passion into a career as a TV producer, host and writer. I'm a hardcore hunter doing what I love!"